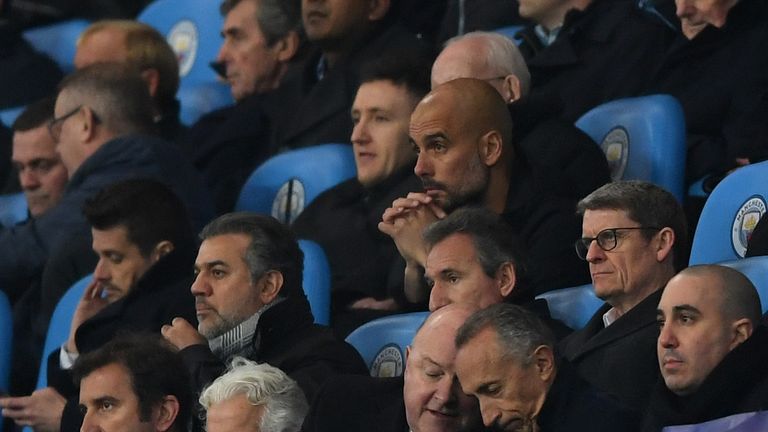 Pep Guardiola criticised the officials after Manchester City's chastening Champions League quarter-final defeat against Liverpool.
City were condemned to a 5-1 aggregate loss after losing 2-1 in Tuesday's second leg but their boss felt it could have been a different outcome had decisions gone his team's way in both matches.
Guardiola pointed to Mohamed Salah's "offside" run leading to the Reds' opener in the first leg, as well as the Leroy Sane goal - when City had cut the aggregate deficit to 3-1 - wrongly ruled out by the flag.
The Spaniard was incensed by that decision, earning himself a seat in the stands as he was sent off at half-time for his on-pitch rant at referee Antonio Miguel Mateu Lahoz.
"I said he was wrong," said Guardiola when asked about his dismissal. "I didn't insult him. I just said it was a penalty and it was a goal.
"The ball [for Sane] came from (James) Milner. He said, 'From Milner it came?'. 'Yes, from Milner'.
"When it comes from Milner it is not offside, and we go to half-time 2-0. Two-nil against that team is a little bit different.
"In these kind of games, in these competitions, the impact is so big. At Anfield the first goal from (Mohamed) Salah is offside. The goal from Gabriel Jesus in Anfield was a goal, not offside."
City's European exit capped a wretched week, which also saw them blow the chance to clinch the Premier League title against bitter rivals Manchester United but Guardiola called on his players to deliver one last push.
"We'll go again next season. Big congratulations to Liverpool," he added. "Hopefully they can represent England well in the semi-final.
"We have to recover mentally. Now we have a mini Premier League for six games and we are going to try to close it."